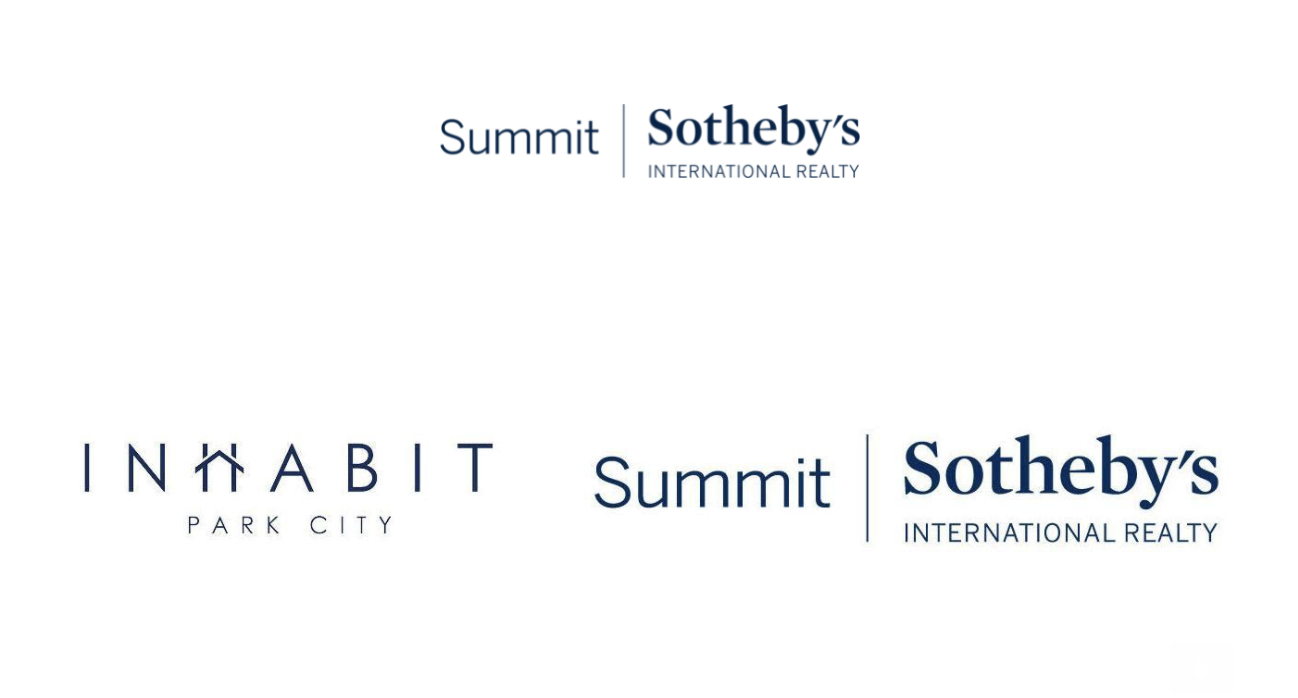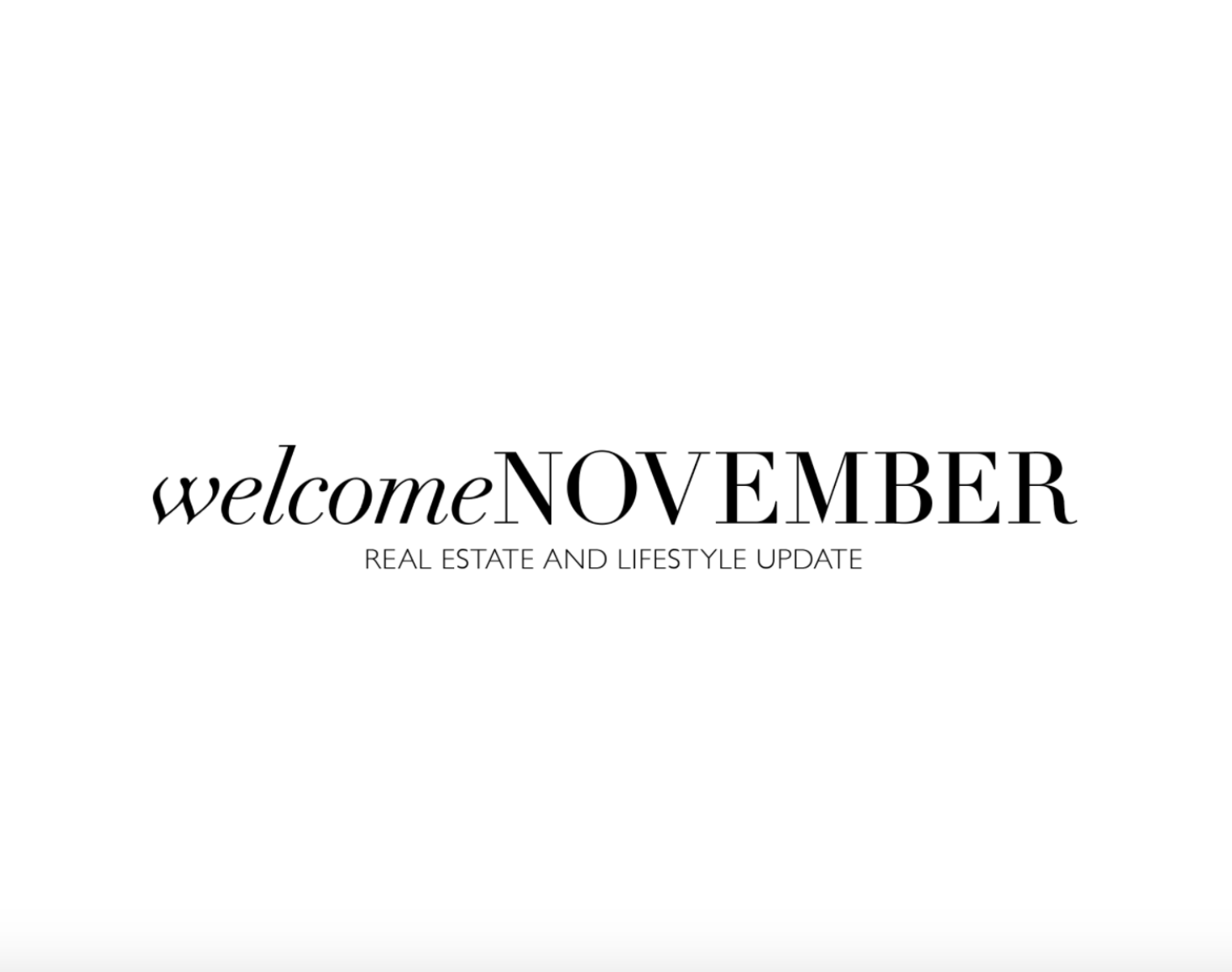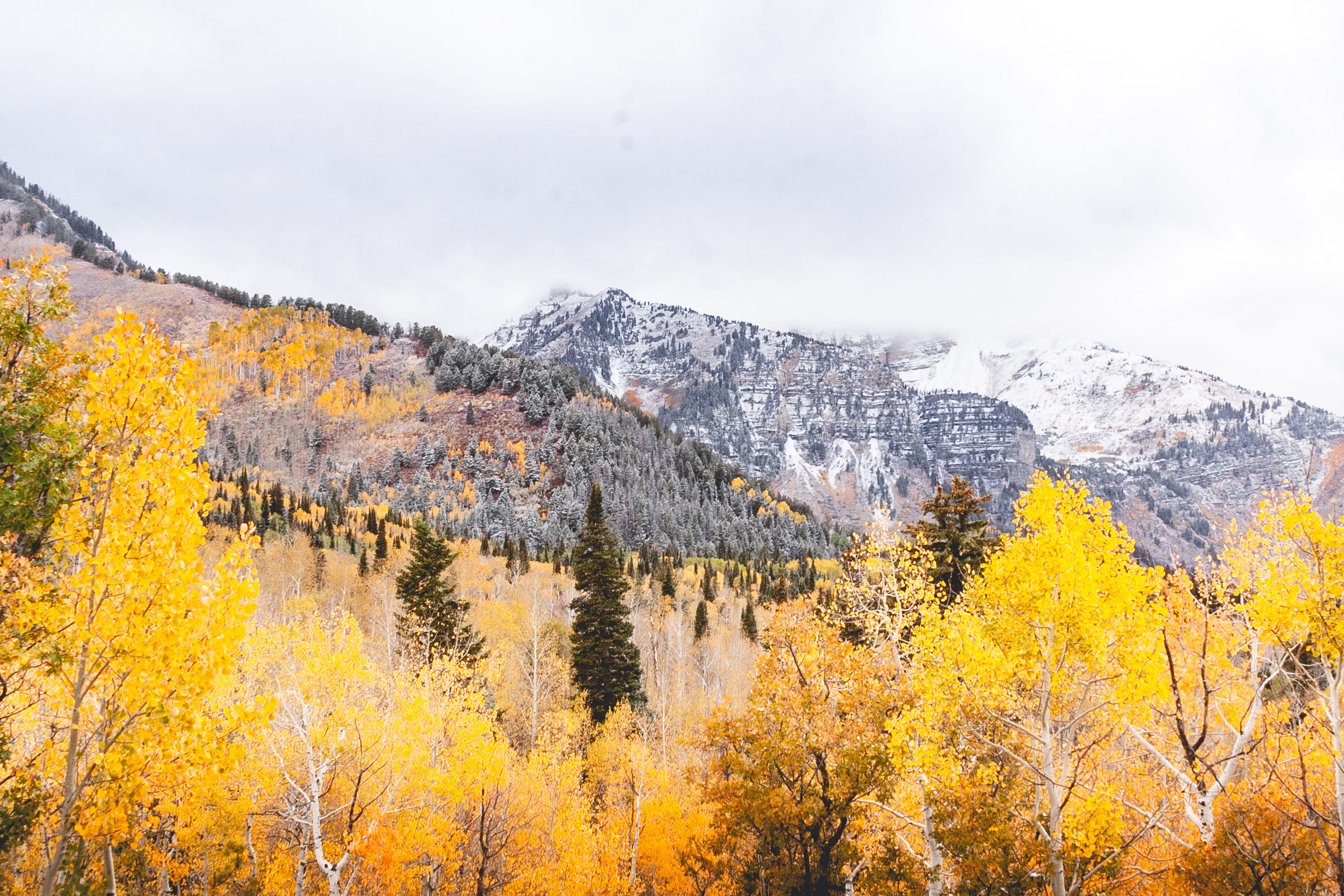 Looking outside at the drizzle and rain, it is clear that we are in what some people call "mud season." Trails are too muddy to mountain bike and there is not enough snow yet to ski. For many, mud season can be depressing. For our family, this is a time to snuggle up on the couch with the warmth of a fire and recover from a busy fall. We affectionately call it: "binge-watching TV season". In honor of binge-watching TV season, I thought I would share my top shows for you to enjoy.
1. Yellowstone – Season 4 is returning this Sunday on Amazon Prime (and I cannot wait!!!)
A sixth-generation homesteader and devoted father, John Dutton controls the largest contiguous ranch in the United States. This binge-worthy show includes corrupt politicians, family dynamics, property conflicts, shifting alliances, unsolved murders, and hard-earned respect in tough country.
2. You – Season 3 just released on October 21st on Netflix.
What would you do for love? For a brilliant male bookstore manager, this question is put to the test each season. This show highlights when crushes become sinister, and when nothing can stand in the way of love.
3. Ted Lasso – on Apple TV, Season 2 was recently released.
Small-time American football coach Ted Lasso is hired to coach a professional football club in England, despite having no experience coaching football. This show is certainly a feel-good uplifting series.
4. Turner and Hootch – on Disney+, Season 1 released earlier this year.
Turner & Hooch is an American buddy cop action-comedy television series based on, and a continuation of, the 1989 film of the same name. After watching the original movie, this show became a family favorite.

Episode Three, Reaching New Heights
In its third episode, our Unique Day series visits Big Cottonwood Canyon on a late fall day for a bit of crisp air and climbing with three Summit Sotheby's International Realty employees. Sharing the outdoors is at the core of every Utahn, and the climbing community plays an exceptional host to beginners and experts alike as one discovers and overcomes new challenges – reaching new heights.

Welcome to our third quarter review of Utah's real estate market. From Park City to Southern Utah, we've taken a look at available inventory, the number of properties that have sold and the total sales volume to give you a pulse of current market demand and conditions. Want to know more about your neighborhood? Simply reply back to this email and I'll put together a custom report for your property or area.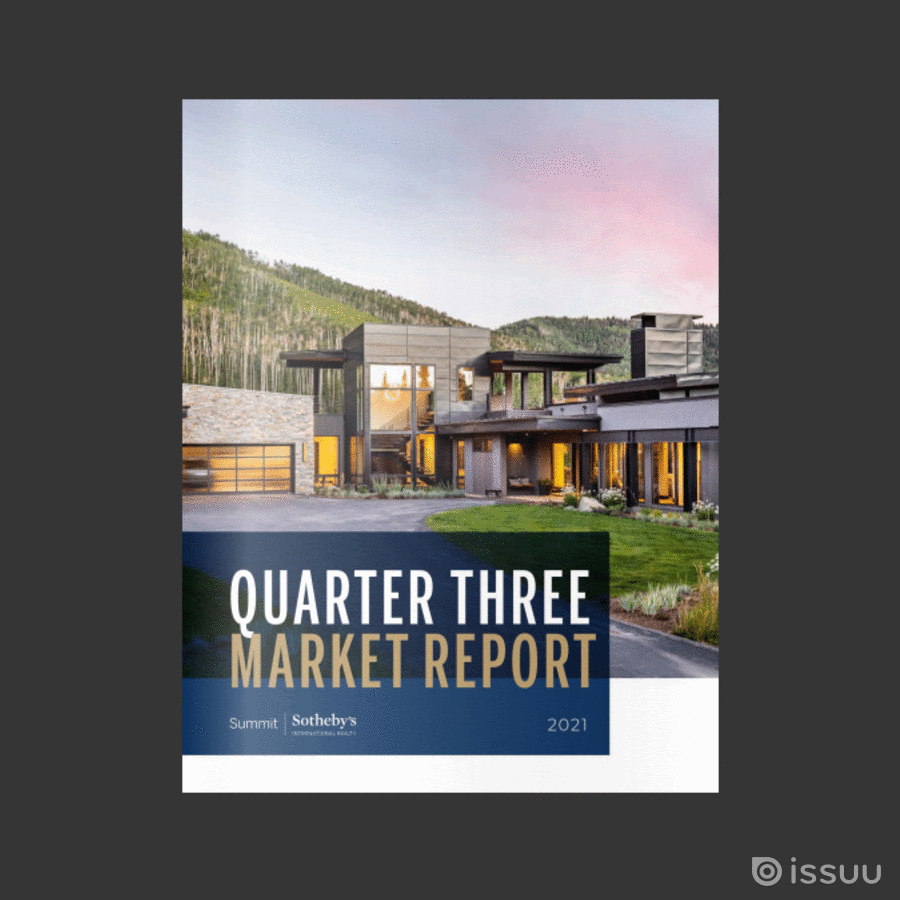 Deer Waters Resort is one of the newest lakeside communities in the Park City area. Experience quiet living with all of the conveniences of this fantastic location. The mountain contemporary, duplex-style townhomes feature bright, open layouts, fully-finished basements and the ability to completely customize interior finishes with an in-house designer. Deer Waters Resort is under construction now, with prices beginning at $1,023,000.
For delivery dates and current availability at Deer Waters Resort, or information regarding other amenity-rich communities in Utah, connect with me. Whether you're looking for a vacation property or a full-time residence, I understand the pulse of Utah's real estate market and upcoming development opportunities.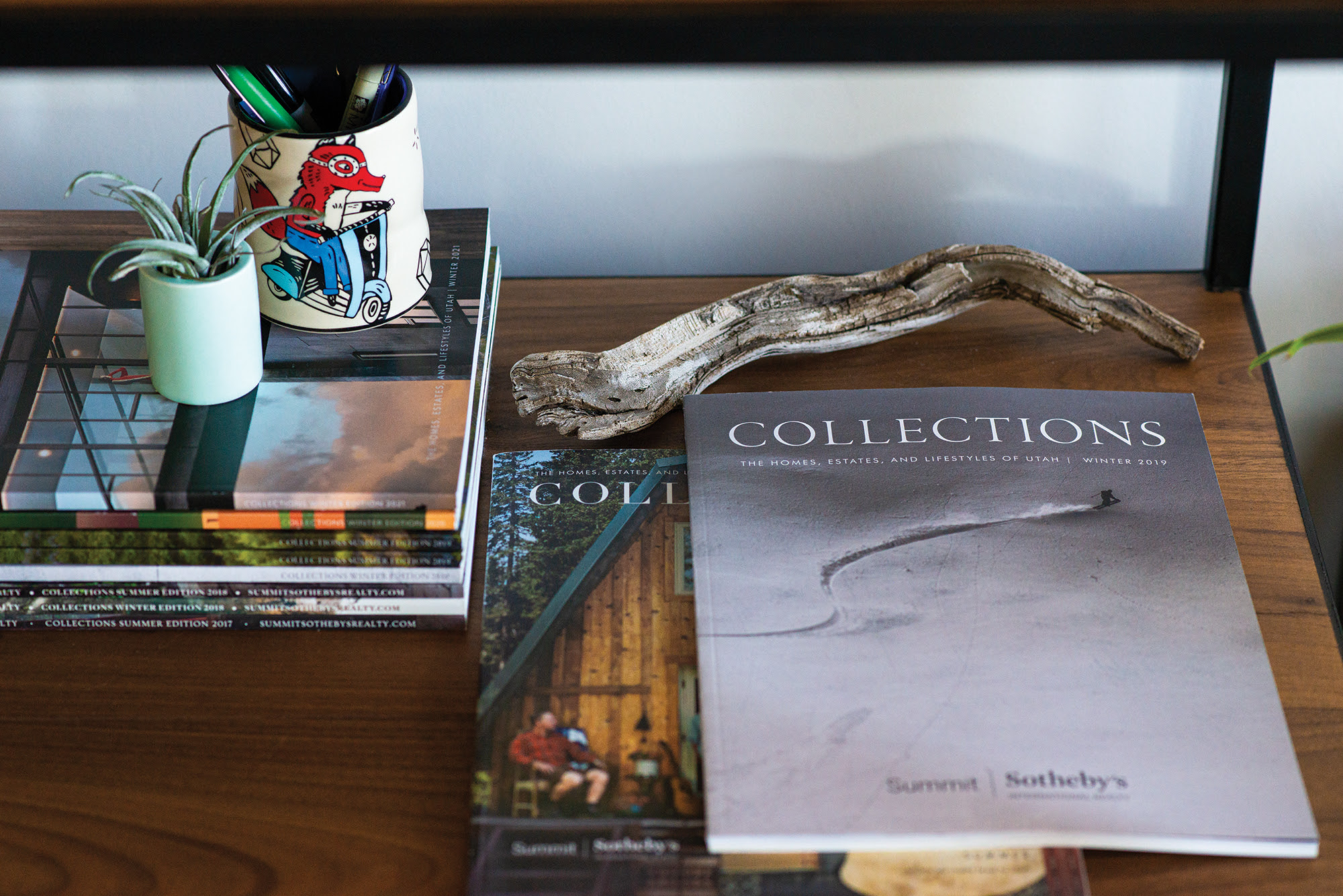 Announcing the 25th edition of Collections Magazine, Utah's award-winning lifestyle and real estate publication from the creative team at Summit Sotheby's International Realty. With over 115,000 copies, 465 hand-selected distribution locations, and 79,000+ magazines landing directly in mailboxes throughout Utah, California, Nevada, Washington, Idaho and Texas — Collections Magazine is a publication that provides our clients at all price points exposure to qualified buyers like no other.
Some Highlights…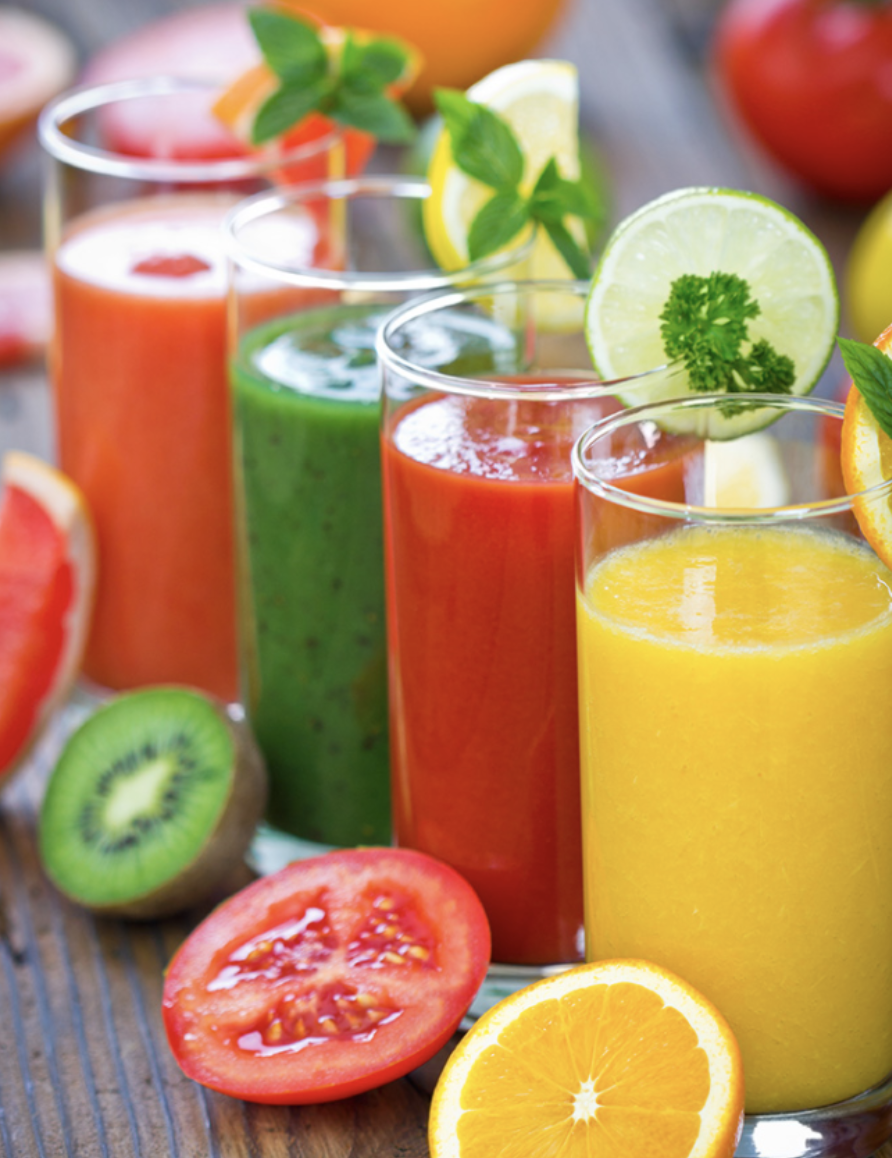 Guest Haus Juicery and Matcha Bar
Guest Haus is a recently opened spot in Park City. It was started by Jennifer Sutton and Anna Barrett. Their goal is to bring social wellness to the community with "good-for-you-foods and drinks" made freshly each day. Their philosophy is composed of five parts: fresh, local & organic, sustainable, energized, and made with love in the mountains. They are committed to bringing high vibes to the community at high elevation. They offer freshly made juices as well as juice bundles, such as the Immunity Pack, Rest/Recovery Pack, Altitude Rescue Pack or the Build your own Bundle which is any combination of four of your favorite juices. They are located at 1800 Prospector Ave, try this new place and support an up and coming local business.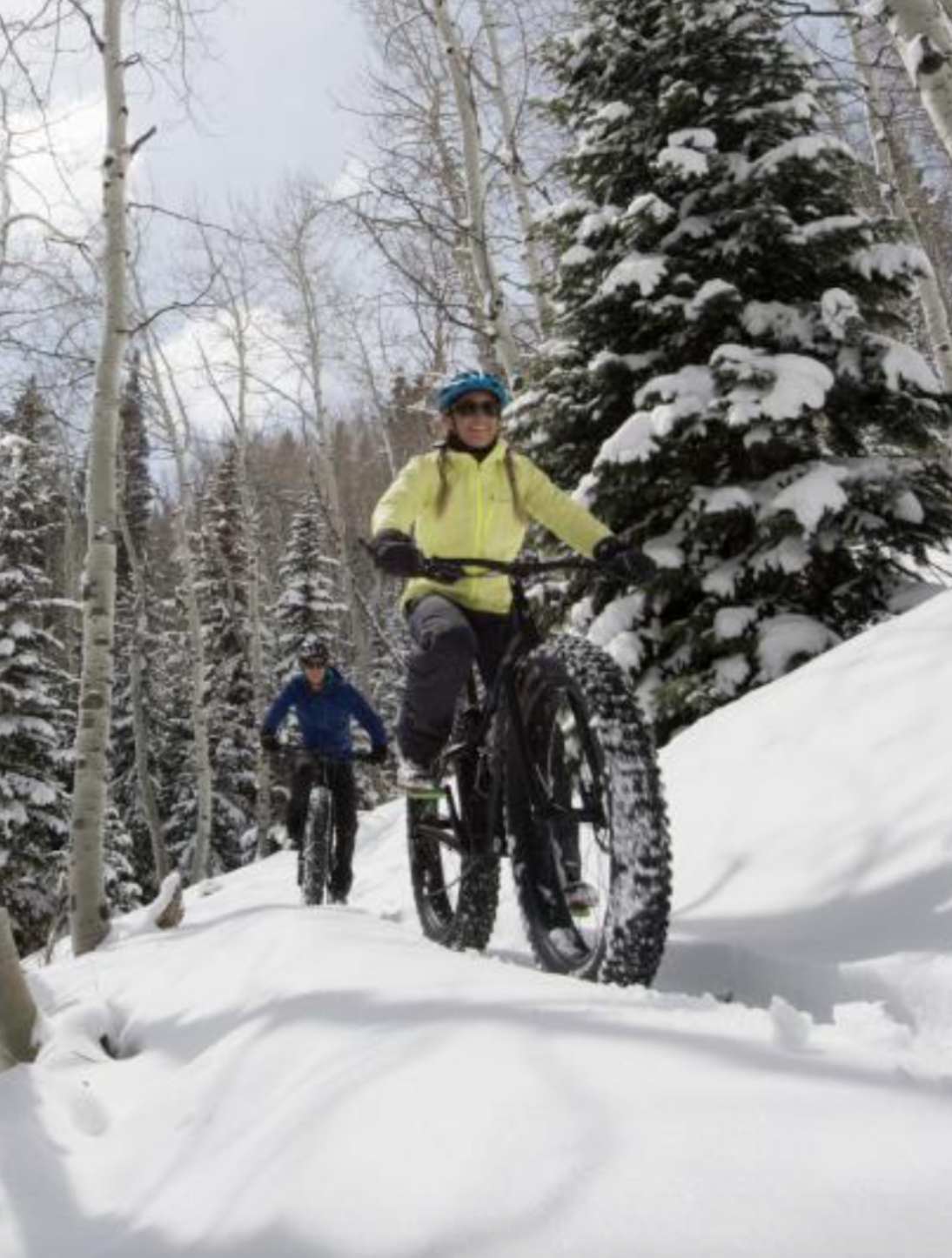 Think biking is just for the warmer months? Think again and try a snow bike. A snow bike has fat tires which enable a rider to glide through the snow no matter if it is packed down or fresh. The terrain can range from a casual ride if the trails are covered with a few inches of snow to advanced terrain. If you aren't sure about snow biking and don't want to commit to buying one, visit All Seasons Adventures and take a guided ride on one of their fat tire bikes. Experience a different type of bike ride and experience the amazing trail system on a white wintery day!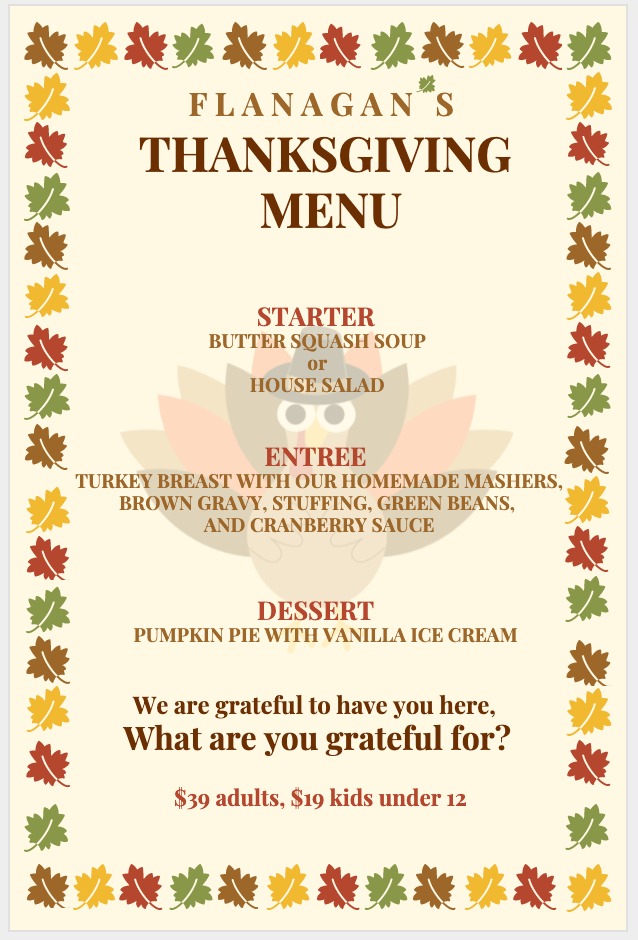 Thanksgiving Dinner at Flanagan's on Main
Thanksgiving is a time to celebrate family and friends being together but the pandemic has made it harder than ever to see the ones we love. This year, we hope that families and friends can celebrate together and spend quality time with one another. Not everyone can master the art of cooking the perfect turkey and if you're looking for another option, look no further than Flanagan's on Main. At Flanagan's on Main they are hosting a dinner event where they have curated a delicious menu with traditional Thanksgiving favorites. Visit their website and see their wonderful menu for the upcoming Thanksgiving holiday. At Flanagan's on Main you and your loved ones can experience the joy of a homemade meal without the tedious hours of preparation and cooking or the dreaded cleanup; making this year easy and enjoyable. They suggest guests make reservations ahead of time!
Local Women in Business
Avoila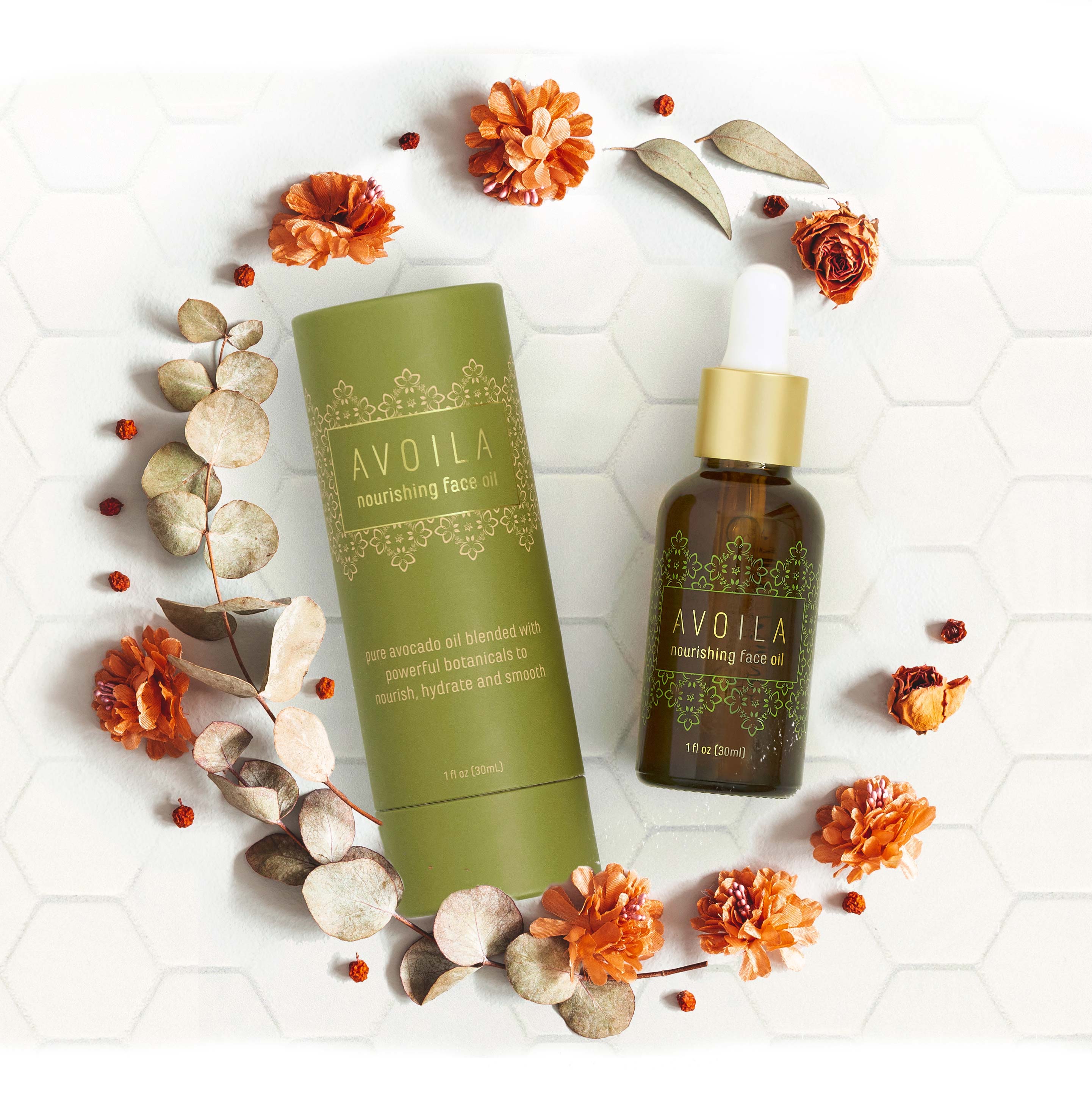 Park City can present some unique skin care challenges; the high desert climate doesn't do the skin any favors. Enter: Avoila Nourishing Face Oil! When Park City local Kristy Hunston and longtime friend Grace O'Sullivan bonded over their frustrations with their skin and the skincare product lines that seemed to only make their skin issues worse, they decided to partner together to create a solution. Avoila Nourishing Face Oil is a carefully crafted blend of fruit, flower and seed oils that naturally repair the skin's barrier and are proven to hydrate, renew and protect the skin from harsh winter weather. Avoila seals in hydration, smooths texture, reduces redness, minimizes fine lines and wrinkles, and is good for all skin types. Use special offer GLOW20 for 20 percent off!
Did we mention, Avoila is also vegan and organic?
"This oil is a must have for the dry winter season. It will help to hydrate, protect and give the skin a healthy glow after a day on the slopes." – Christa Jutras, owner
Everly Grace Beauty.

A New Style of Representation | Modern & Contemporary
South Asian Art Auction
Discover a specially curated selection of paintings, photographs and sculptures from our Modern & Contemporary South Asian Art auction in London. In this latest video, South Asian Art specialist Ishrat Kanga takes us though a selection of highlights which created a whole new style of representation by mixing old and new techniques. Discover how these artworks tell fascinating stories of the people and cultures from the South Asian subcontinent.

Temps have dropped and the first snow of winter has fallen here in Utah. Ski season is right around the corner! As resorts throughout the state gear up for another snow-filled winter, I've compiled a helpful list of opening dates for Utah's resorts.
Here's to another winter season: I'll see you on the slopes!
Friday, November 19th
Park City Mountain – Park City
Woodward Park City – Park City
Solitude – Big Cottonwood Canyon
Saturday, November 20th
Alta – Little Cottonwood Canyon
Wednesday, November 24th
Wednesday, December 1st
Snowbird – Little Cottonwood Canyon
Satuday, December 4th
Deer Valley® – Park City
Friday, December 10th
Friday, December 17th
To Be Announced:
Beaver Mountain – Logan Canyon
Brian Head – Brian Head
Brighton – Big Cottonwood Canyon
Cherry Peak – Richmond
Nordic Valley – Eden
Powder Mountain – Eden

The 7 Characteristics of a Truly Smart Home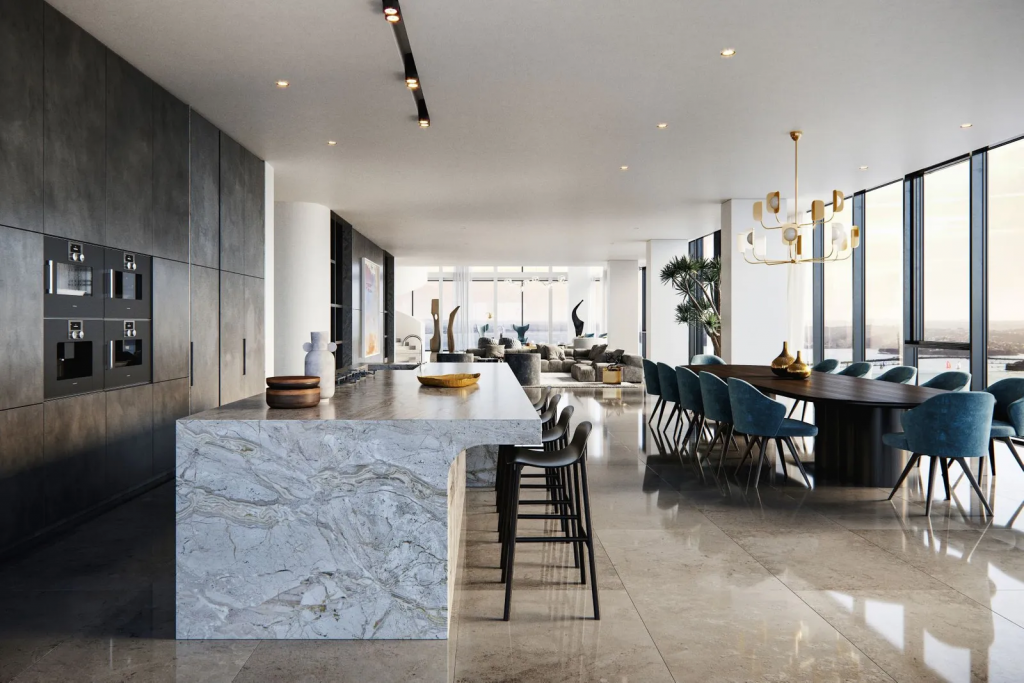 How can a luxury home enter a new strata? With the integration of the latest smart technology. When working in unison, the best home automation systems are woven into the house's design and framework to make life more effortless, more secure, and even more eco-friendly. These seven characteristics of a truly smart home provide security, efficiency, and a seamless experience.
Inside a Sophisticated 1920s Manor in California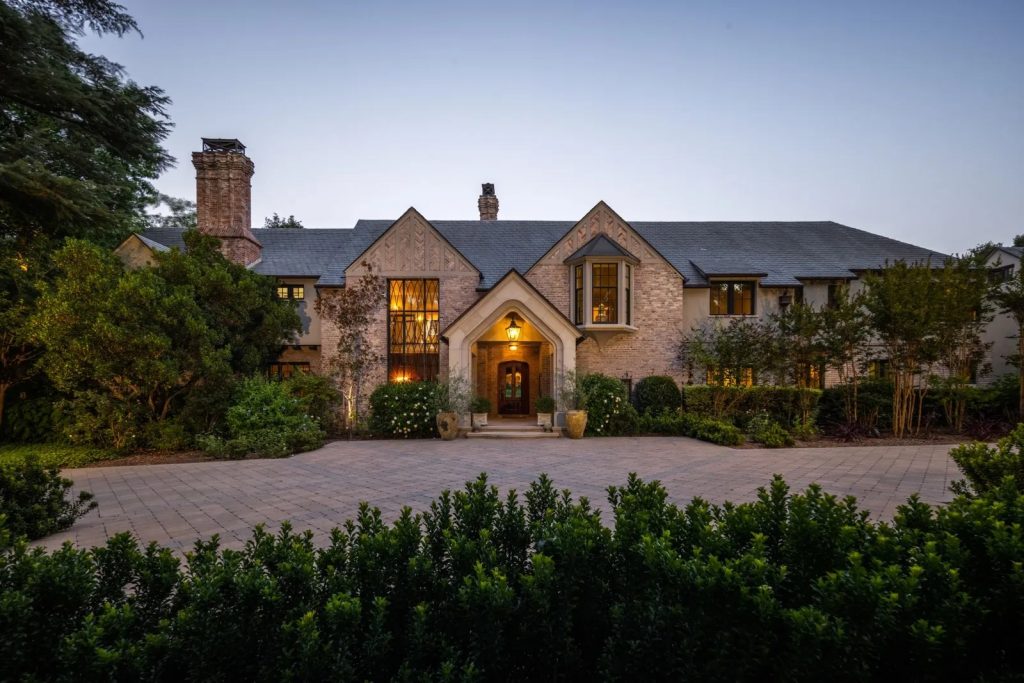 In the early 20th century, the award-winning team of David J. Witmer and Loyall F. Watson—celebrated architects of the American Southwest—designed numerous public buildings and private residences, which earned them renown for outdoor living spaces and homes that that encourage a relationship with their natural environment. That connection is readily apparent in this stately manor, which was built in 1929 for the Henry W. Swafford family.
This Month's National Park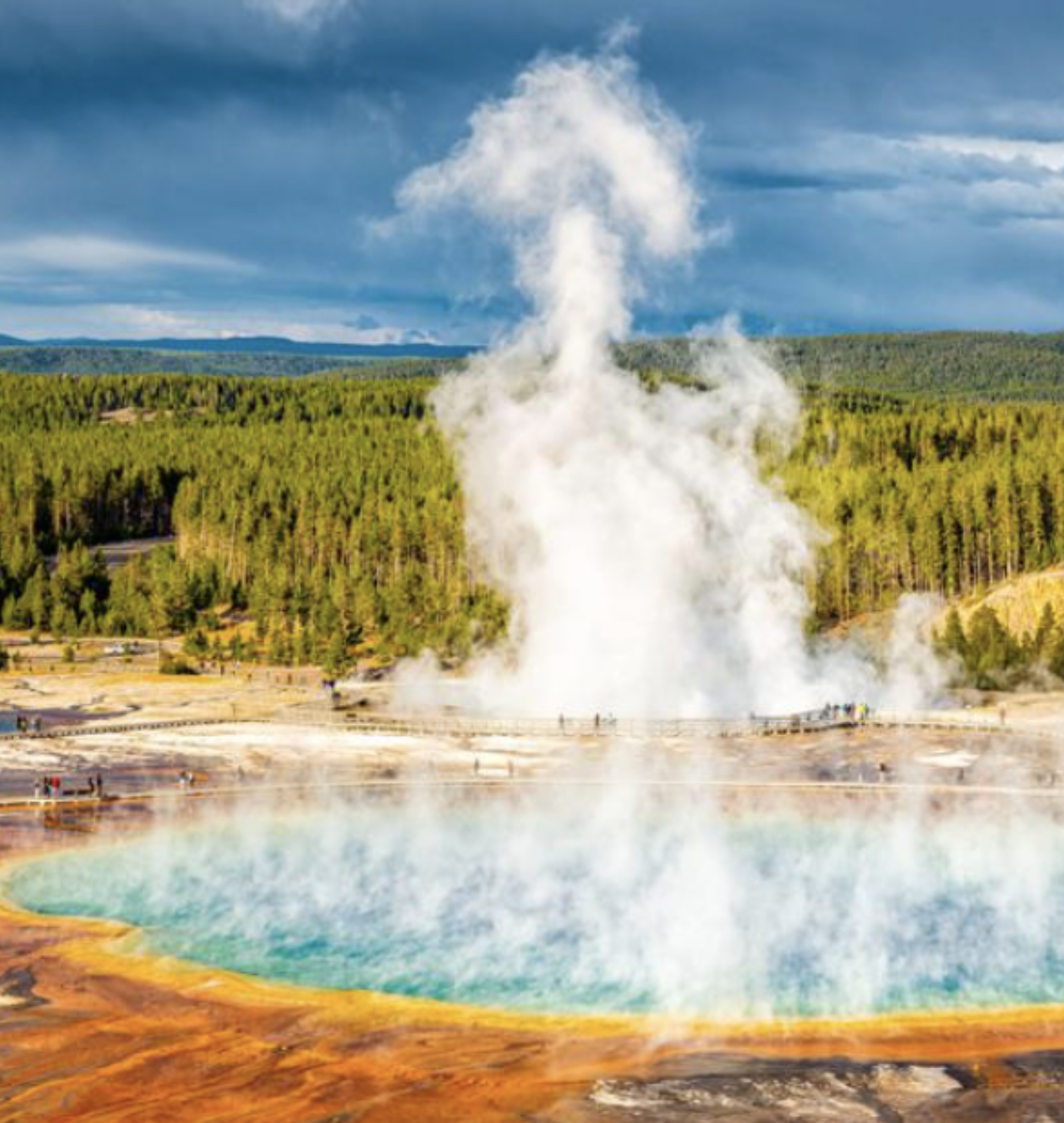 Yellowstone National Park
Yellowstone National Park is one of the oldest and most famous parks in the United States, it also happens to be just a 5 ½ hour drive away from Park City. This makes it the perfect weekend expedition and a great way to spend time with family while exploring a new place. Yellowstone is known for its geothermal hot springs, incredible wildlife, rushing rivers, and so much more. Yellowstone is quite large and spans 3,500 square miles so an itinerary is highly suggested before visiting. There are so many incredible things to do at Yellowstone; however, one of the must sees is Old Faithful. The Old Faithful Geyser currently erupts around 20 times a day and the height ranges from 100-180 feet and can be seen from a viewpoint that is easily accessible.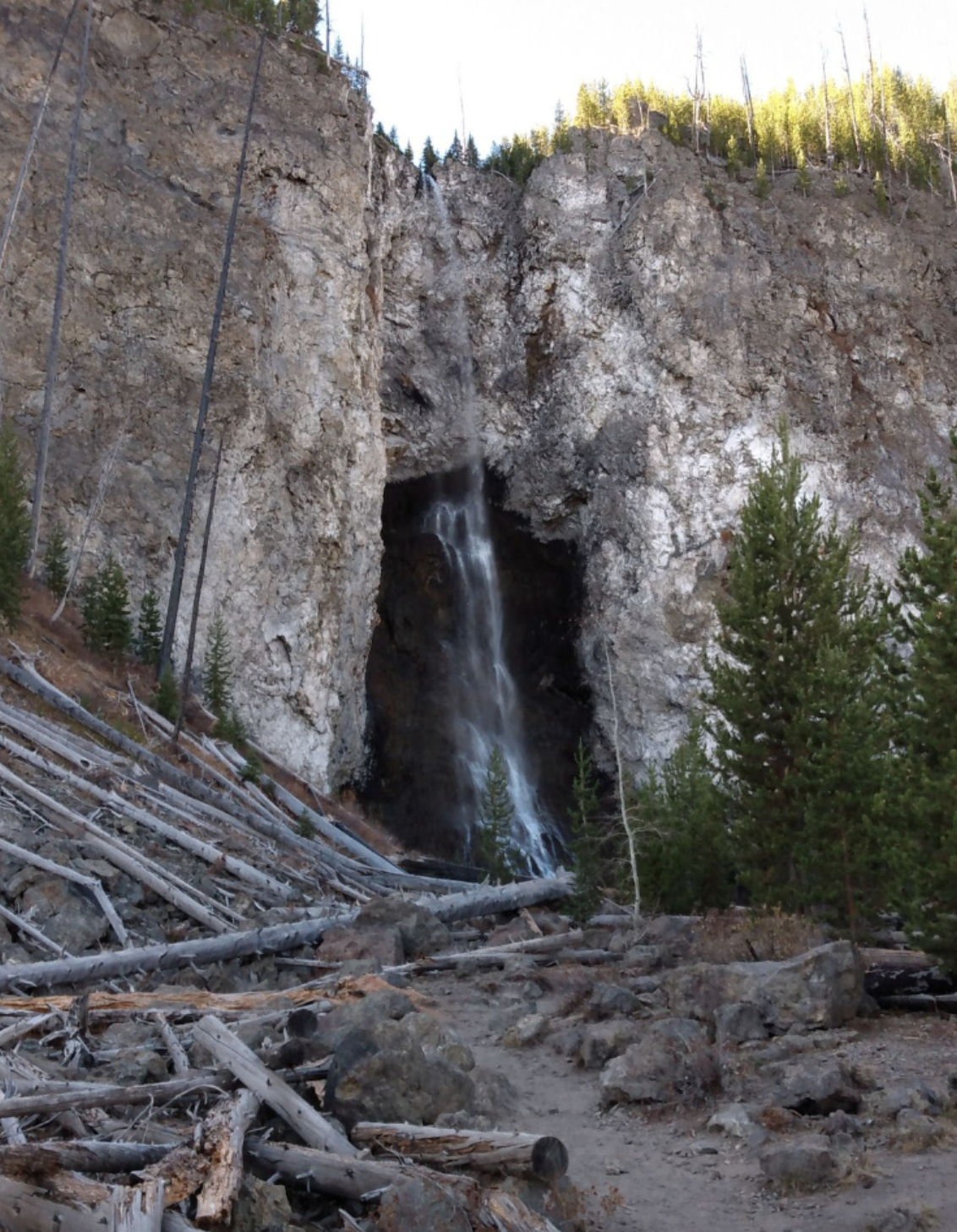 A great hike to do in Yellowstone (there are many) is the Fairy Falls Trail. It is an easy hike and suitable for all skill levels. The distance of the hike is 4.8 miles with only a 170 foot elevation gain. On this hike you can expect to see a waterfall, hot spring, rivers, beautiful scenery and an abundance of wildlife. We recommend going later in the day to avoid crowds and enjoy the natural beauty of the park.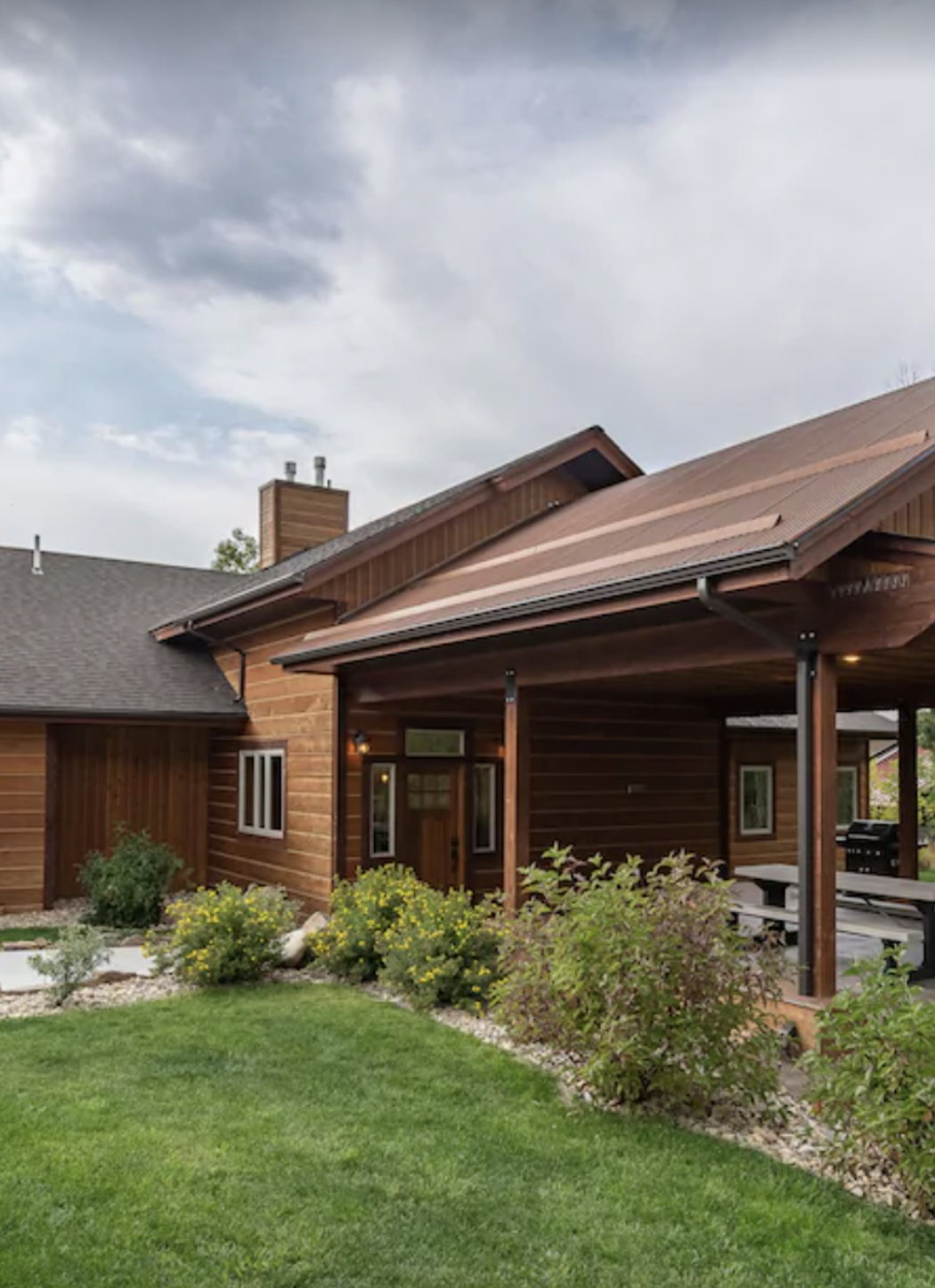 An incredible place to stay is this custom home just 10 miles away from Yellowstone. It is a spacious five bedroom, five bathroom cabin built to accommodate the whole family. The home is located on a half acre and surrounded by 'mountain country'. It has a warm nostalgic feel and also offers exceptional views from the great room and front patio of the famous 'Lionhead' Mountain. The home is conveniently located a quarter mile from snowshoeing grounds, trails, a national forest, and cross country skiing. Starting November 15 the option to use a hot tub is available to guests to enjoy as the cool winter temperatures return!

Representing the finest properties in North Carolina, Landmark Sotheby's International Realty is the luxury leader in the markets it serves. If you're looking to buy or sell a property in Southeastern North Carolina, I can connect you with local expert agents, powered by Landmark Sotheby's International Realty.
www.landmarksothebysrealty.com